Diagnodent technology uses a simple laser diode to inspect your teeth. As the laser pulses into grooves of unfilled or uncrowned teeth the resulting reflected light is evaluated electronically to reveal a value between 0 and 100. A reading of over 30 indicates a definite area of decay and would require being repaired.
We have been using this technology since 2000, allowing us to catch areas of decay sooner and with more precision. We are proud that we have this diagnostic tool.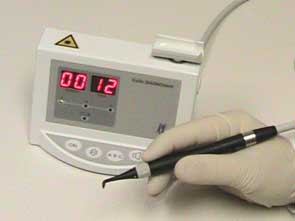 Ready to improve your smile?
Schedule your dental appointment today!